Media: San Joaquin County Custodial Facilities: Failing to Comply with the Prison Rape Elimination Act of 2003 (Case #0222)
For the past decade, the law has required U.S. jails to open their doors to auditors tasked with ensuring jail officials do enough to prevent sexual abuse against incarcerated people.
But the San Joaquin County Jail — which houses roughly 1,300 people — has never undergone a single audit, a grand jury found this year.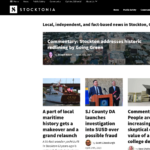 The grand jury recently released a report that found both the county detention facilities have failed to comply with myriad federal requirements under the Prison Rape Elimination Act (PREA), a 2003 law meant to protect those in law enforcement custody from being abused. Its investigation revealed the facilities never conduct mandated audits for PREA compliance and identified various communication issues related to providing policy information.