The California Grand Jury Association (CGJA) is a statewide organization whose purpose is to support the California grand jury system and the valuable role civil grand juries play in our democratic system of government. In 2013, San Joaquin County joined 27 other counties in the state that have Chapters of the California Grand Jurors' Association.  The San Joaquin County Chapter will extend the state organization's role for the benefit of county citizens through increased oversight regarding accountability and effectiveness of public entities including cities and special districts.
The purpose of the San Joaquin County Chapter of the California Grand Jurors' Association is to tell the story of the Civil Grand Jury and to support the efforts of each year's Civil Grand Jury.
To accomplish this purpose, our Chapter will endeavor to:
Provide citizens of San Joaquin County with information on the grand jury system and its importance and benefit to the well-being of the community,

Assist in recruiting qualified candidates who are representative of the community for membership on the Grand Jury,

Work with the Court to provide support and training to each current Grand Jury, sharing our experiences and lessons we have learned, and

Promote greater awareness of grand jury reports, including meaningful responses by local government agencies.
Congratulations to our newly elected Executive Board!
Bert Brown – President
Eric Grunder – Vice President
Ken Buck – Secretary/Treasurer
Chuck Walker, Sr. – Member At-Large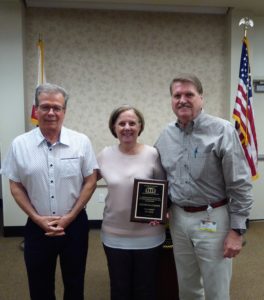 l-r: Bert Brown, Incoming Chapter President – Denise Mathews, Outgoing Chapter President – Gary Spaugh, Past President at our September 18th membership meeting.
***************************************************************************
October's Guest Speaker




Sheriff-elect Pat Withrow
Pat joined the Sheriff's Department in 1987. He has been a K9 officer, SWAT Officer, Patrol and Admin Sergeant and runs the Alternative Work Program/ Community Corps. He has been married for twenty seven years to his wife Kathleen and they have three children: Kelsey, Jacquelyn, and Zachary. Patrick recently graduated from Union Institute and University with a Bachelor of Science in Criminal Management and looks forward to leading the San Joaquin County Sheriff's Department in 2019.
***************************************************************************
November's Guest Speaker
Homeless/Foster Case Manager – Health and Safety Officer at Manteca Unified School District Lynda Donelson
Works with school sites to ensure safety and provide services in transitional living situations. Lynda has a Law Enforcement background and worked for the U.S. Marshall Service for 9 years and Manteca PD for 20 years. She is a seated member of the City of Manteca Homeless Coalition and Manteca Homeless Outreach Taskforce.
Linda provides case management services for families with complex homeless situations by conducting home visits related to school/truancy checks, safety checks and crisis interventions. She works with multiple local/government agencies to provide resources and referrals to families when necessary.
Lynda is a compassionate advocate for at-risk families in Manteca and surrounding areas. She is dedicated to assist students and families with available resources. She works to develop a strong rapport with families by building trust and assistance in a non-judgmental manner.
When Lynda is not working, she enjoys spending time on her 4-acre property outside of Knights Ferry with her family and two grandchildren. Her motto is "Family First".